VELOCIDAD DE ESCAPE
Inicio > Historias > GUERRA ¿PARA QUÉ SIRVE? de Ian Morris
2017-12-08
---
GUERRA ¿PARA QUÉ SIRVE? de Ian Morris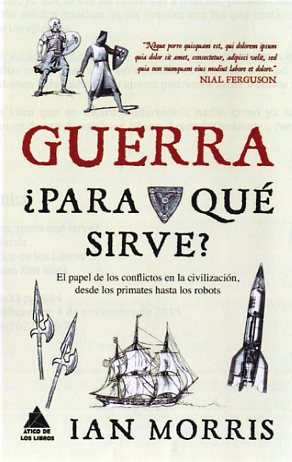 Me encantó el anterior libro de Morris (¿Porqué manda Occidente? Por ahora) y su enfoque histórico global atendiendo a factores materiales. En la linea de Jared Diamond en este libro se centra en los beneficios que ha tenido para la historia de la humanidad la guerra.
Siendo una hipótesis controvertida, no es menos cierto que no es nueva. Una de las cosas que aprendí en la carrera es que gran parte del desarrollo como disciplina científica se debió gracias a las dos guerras mundiales (que cada vez se tiende más a considerar como una sola) y que en cualquier caso los avances técnicos diseñados para matar tienen una contrapartida cuando llega la paz.
Tomando también ideas del Psicólogo Steven Pinker en su "Los mejores ángeles de nuestra naturaleza" intenta demostrar que la violencia se reduce con el paso de los siglos, pese a todo. También difiere de él en algunos puntos.
Morris es muy bueno narrando y su estilo hace que sea sencillo seguir su razonamiento si bien este libro se me antoja un poco extenso para dejar establecida la hipótesis principal, aunque ya me han advertido que el citado libro de Pinker es todavía mucho más extenso.
Estupidiario y otras cosas | jomaweb | 8 Comentarios | Enlace
Referencias (TrackBacks)
URL de trackback de esta historia http://jomaweb.blogalia.com//trackbacks/77185
Comentarios
1

Thank's for this news !!
2

Watch FIFA World Cup Live
3

| | |
| --- | --- |
| De: hotmail | Fecha: 2018-11-22 07:14 |

Thank's really
4

We are at a critical time of the history of modern world. Very nice to see good article posted like this. We must share good article like this to everyone.












5

| | |
| --- | --- |
| De: Jim Harxmon | Fecha: 2019-01-09 04:12 |