VELOCIDAD DE ESCAPE
Inicio > Historias > 50 GRANDES MITOS DE LA PSICOLOGÍA POPULAR
2015-08-31
---
50 GRANDES MITOS DE LA PSICOLOGÍA POPULAR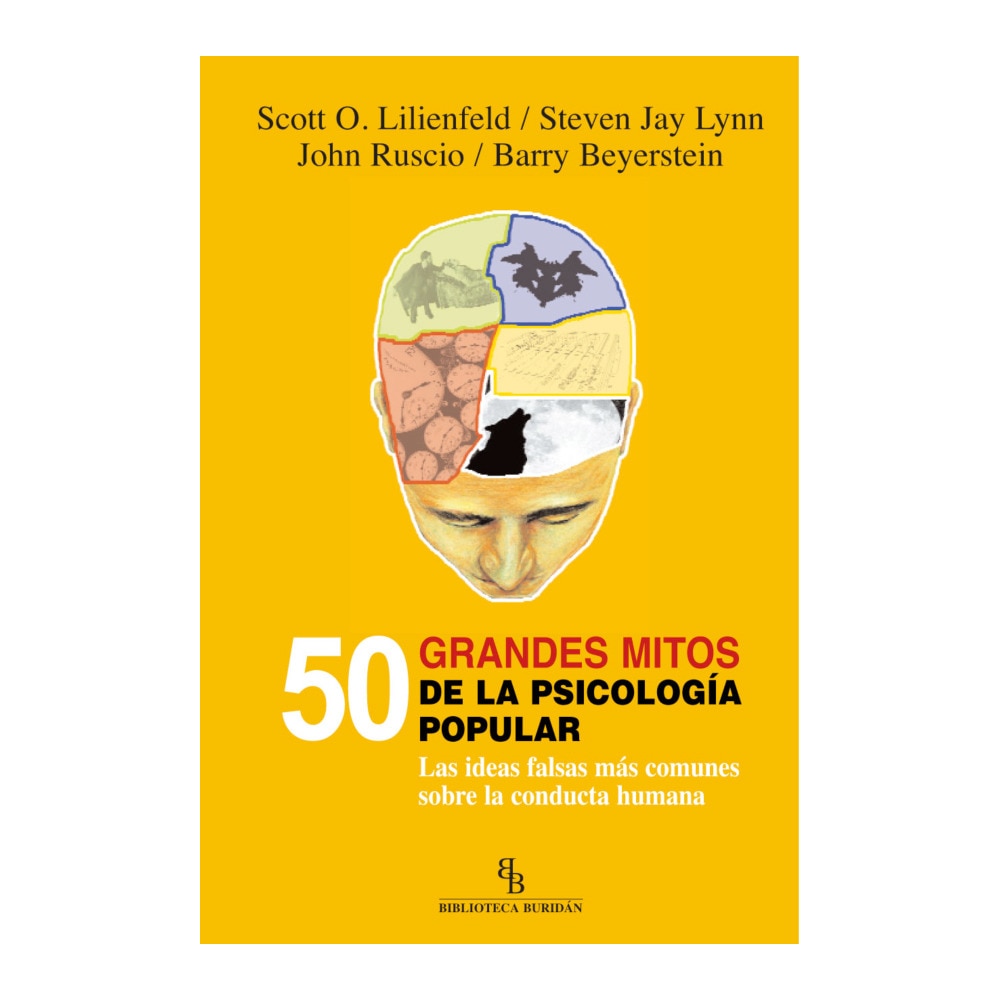 Este libro deberia de ser de obligada lectura, no ya para los estudiantes de los cursos introductorios de la carrera de Psicología, sino para los estudiantes de medicina, ingeniería, magisterio, o cualesquiera otras personas que prentendan tener un conocimiento cabal de la realidad en lo que a la investigación sobre el comportamiento humano se refiere.
Si por mi fuera, este libro seria de obligada lectura incluso en el bachillerato.
Idioteces como que solo usamos el 10% de nuestra capacidad cerebral, o que los testigos en un juicio son fiables, quedan desmontadas, entre otras (hasta 50) con datos e investigación.
Cultivar el espiritu critico acerca de esta amada ciencia, no está de más, porque sobre ella se vierten todos los dias muchos infundios y supersticiones estúpidas.
Estupidiario y otras cosas | jomaweb | 9 Comentarios | Enlace
Referencias (TrackBacks)
URL de trackback de esta historia http://jomaweb.blogalia.com//trackbacks/75829
Comentarios
1

| | |
| --- | --- |
| De: Hotmail | Fecha: 2019-01-23 08:22 |

critico acerca de esta amada ciencia, no está de más, por
4

Freedom is something that cash can't get, it's the aftereffect of the battles of numerous Bravehearts. Give us a chance to respect them today and consistently. Glad Independence Day 2019
5

You just need to introduce it into your gadget and output the QR Code with the gadget camera to be associated. That is all, presently make the most of your association with your feline. You can get to the live gushing of your feline, yet for this, the web association is an absolute necessity.
7

In an email on February 21, 2019 'QB Pro Advisor Help' stated " This is to inform you that your refund request has been taken into consideration. We have created the Refund ticket request & the refund would be processed in the same mode of payment within 7-10 business days.
March 28, 2019 and April 1, 2019 'QB Pro Advisor Help' aka QUICKBOOKKEEPINGEXPERTS has reapplied the charge of 95.00 (00.00 + 5.00) to my business credit card.
This company is a scam artist.
First letter February 21, 2019 to 'QB Pro Advisor Help' copied to Capital One:
On 02/21/2019 about 1:00pm a Ms. "Susan Taylor" (ST) contacted me by telephone concerning technical support for Intuit QuickBooks (QB) but it was QB Pro Advisor Help. She presented herself as a representative for QB. I was led to believe that ST worked for QB and was responding to my request for tech support. QB Pro Advisor Help
I allowed ST to sign on to my computer remotely. ST informed me that my company file was 79% corrupted and when that corruption reached 84% that my company file data would be unrecoverable and lost. I was very concerned; I cannot afford to lose 10+ years of accounting data. QB Pro Advisor Help
ST advised me of two solutions: 1) one-year support contract for 95.00 or 2) three-year support contract for 35.00. I told QB Pro Advisor Helpthat was a lot of money and too expensive. I asked what the cost was for a single instance of technical support to recover and stabilize my company data file; ST told me the charge is .00 per megabyte. My company file is approximately 232MB, so single instance support would be about 00.00.
After some haggling, QB Pro Advisor Help ST offered the special deal of 95.00 for 42 months (3.5 years) of unlimited technical support and assured me that my present issue (including the reason for my seeking tech support) could be resolved in a few hours. Please remember: I had the understanding that I am communicating with an employee of QB, the designer of this software. I also am under the impression that doom and destruction await my company data file should I not respond and have this data recovery/repair completed immediately.
Immediately (about 1:30pm) QB Pro Advisor Help ST transferred control of my computer to "Alex". "Alex" worked remotely on my company data file until about 3:30pm, at which time he told me that the repair had been completed. I am still not positive the repair is completed since I have not yet used the software and company data file enough to verify that it is operating properly.
While "Alex" was working remotely on my computer, I received and invoice # 2002197961 via email. I became concerned when I saw that this invoice was from "QB Pro Advisor Help" and not from "Intuit QuickBooks." So, I telephoned QB at (800) 446-8848 and waited on hold for about 20 minutes until I could talk with a real person. Finally, I talked with a lady "Ron" and described my situation. I asked if "QB Pro Advisor Help" is a QB company. I was informed that they are not. I then discussed what the expense is for technical support from QB; I was told 9.95 per year, .95 per 3 months or .00 per month. "Ron" informed me that QB does not offer any technical support in greater than annual periods, she suggested I immediately stop payment. We discussed the possibility of this being a fraudulent transaction since "QB Pro Advisor Help" had misrepresented themselves as being QB. She also suggested I report this instance to the QB fraud department at spoof@intuit.com, which I promptly did. There is no telephone number available to contact the Intuit QB fraud department directly. I am still waiting for a reply to this email fraud report.
To the beginning, how did this situation evolve?
I am having an issue importing if files from my POS into QB Pro 2019. I can import using my admin, but unable to import by my second full access user. First I called QB at (800) 446-8848 and was informed there was a long wait time, but if I left my telephone number that my call would be returned. I left my telephone numbers (541) 476-9646 (work) and (541) 659-2439 (cellular), expecting a return telephone call from QB technical support. QB Pro Advisor Help
Then, I got online (while in QB) and submitted my problem on the QB technical user community support board as follows:
"Hello. I am using QP Pro 2019 desktop. I have two users. When the second user attempts to import and if file from my POS, he gets an error that he is unable to do this because he is not an admin. QB Pro Advisor Help
My user is an admin and I can import if files without issue. QB Pro Advisor Help
Does this mean that for my second user that I must give him my user and password to allow him to import if files? We import if file information from our POS daily.
I am hoping there is a work around.
Thanks

8

In an email on February 21, 2019 'QB Pro Advisor Help' stated " This is to inform you that your refund request has been taken into consideration. We have created the Refund ticket request & the refund would be processed in the same mode of payment within 7-10 business days.
March 28, 2019 and April 1, 2019 'QB Pro Advisor Help' aka QUICKBOOKKEEPINGEXPERTS has reapplied the charge of 95.00 (00.00 + 5.00) to my business credit card.
This company is a scam artist.
First letter February 21, 2019 to 'QB Pro Advisor Help' copied to Capital One:
On 02/21/2019 about 1:00pm a Ms. "Susan Taylor" (ST) contacted me by telephone concerning technical support for Intuit QuickBooks (QB) but it was QB Pro Advisor Help. She presented herself as a representative for QB. I was led to believe that ST worked for QB and was responding to my request for tech support. QB Pro Advisor Help
I allowed ST to sign on to my computer remotely. ST informed me that my company file was 79% corrupted and when that corruption reached 84% that my company file data would be unrecoverable and lost. I was very concerned; I cannot afford to lose 10+ years of accounting data. QB Pro Advisor Help
ST advised me of two solutions: 1) one-year support contract for 95.00 or 2) three-year support contract for 35.00. I told QB Pro Advisor Helpthat was a lot of money and too expensive. I asked what the cost was for a single instance of technical support to recover and stabilize my company data file; ST told me the charge is .00 per megabyte. My company file is approximately 232MB, so single instance support would be about 00.00.
After some haggling, QB Pro Advisor Help ST offered the special deal of 95.00 for 42 months (3.5 years) of unlimited technical support and assured me that my present issue (including the reason for my seeking tech support) could be resolved in a few hours. Please remember: I had the understanding that I am communicating with an employee of QB, the designer of this software. I also am under the impression that doom and destruction await my company data file should I not respond and have this data recovery/repair completed immediately.
Immediately (about 1:30pm) QB Pro Advisor Help ST transferred control of my computer to "Alex". "Alex" worked remotely on my company data file until about 3:30pm, at which time he told me that the repair had been completed. I am still not positive the repair is completed since I have not yet used the software and company data file enough to verify that it is operating properly.
While "Alex" was working remotely on my computer, I received and invoice # 2002197961 via email. I became concerned when I saw that this invoice was from "QB Pro Advisor Help" and not from "Intuit QuickBooks." So, I telephoned QB at (800) 446-8848 and waited on hold for about 20 minutes until I could talk with a real person. Finally, I talked with a lady "Ron" and described my situation. I asked if "QB Pro Advisor Help" is a QB company. I was informed that they are not. I then discussed what the expense is for technical support from QB; I was told 9.95 per year, .95 per 3 months or .00 per month. "Ron" informed me that QB does not offer any technical support in greater than annual periods, she suggested I immediately stop payment. We discussed the possibility of this being a fraudulent transaction since "QB Pro Advisor Help" had misrepresented themselves as being QB. She also suggested I report this instance to the QB fraud department at spoof@intuit.com, which I promptly did. There is no telephone number available to contact the Intuit QB fraud department directly. I am still waiting for a reply to this email fraud report.
To the beginning, how did this situation evolve?
I am having an issue importing if files from my POS into QB Pro 2019. I can import using my admin, but unable to import by my second full access user. First I called QB at (800) 446-8848 and was informed there was a long wait time, but if I left my telephone number that my call would be returned. I left my telephone numbers (541) 476-9646 (work) and (541) 659-2439 (cellular), expecting a return telephone call from QB technical support. QB Pro Advisor Help
Then, I got online (while in QB) and submitted my problem on the QB technical user community support board as follows:
"Hello. I am using QP Pro 2019 desktop. I have two users. When the second user attempts to import and if file from my POS, he gets an error that he is unable to do this because he is not an admin. QB Pro Advisor Help
My user is an admin and I can import if files without issue. QB Pro Advisor Help
Does this mean that for my second user that I must give him my user and password to allow him to import if files? We import if file information from our POS daily.
I am hoping there is a work around.
Thanks

9

In an email on February 21, 2019 'QB Pro Advisor Help' stated " This is to inform you that your refund request has been taken into consideration. We have created the Refund ticket request & the refund would be processed in the same mode of payment within 7-10 business days.
March 28, 2019 and April 1, 2019 'QB Pro Advisor Help' aka QUICKBOOKKEEPINGEXPERTS has reapplied the charge of 95.00 (00.00 + 5.00) to my business credit card.
This company is a scam artist.
First letter February 21, 2019 to 'QB Pro Advisor Help' copied to Capital One:
On 02/21/2019 about 1:00pm a Ms. "Susan Taylor" (ST) contacted me by telephone concerning technical support for Intuit QuickBooks (QB) but it was QB Pro Advisor Help. She presented herself as a representative for QB. I was led to believe that ST worked for QB and was responding to my request for tech support. QB Pro Advisor Help
I allowed ST to sign on to my computer remotely. ST informed me that my company file was 79% corrupted and when that corruption reached 84% that my company file data would be unrecoverable and lost. I was very concerned; I cannot afford to lose 10+ years of accounting data. QB Pro Advisor Help
ST advised me of two solutions: 1) one-year support contract for 95.00 or 2) three-year support contract for 35.00. I told QB Pro Advisor Helpthat was a lot of money and too expensive. I asked what the cost was for a single instance of technical support to recover and stabilize my company data file; ST told me the charge is .00 per megabyte. My company file is approximately 232MB, so single instance support would be about 00.00.
After some haggling, QB Pro Advisor Help ST offered the special deal of 95.00 for 42 months (3.5 years) of unlimited technical support and assured me that my present issue (including the reason for my seeking tech support) could be resolved in a few hours. Please remember: I had the understanding that I am communicating with an employee of QB, the designer of this software. I also am under the impression that doom and destruction await my company data file should I not respond and have this data recovery/repair completed immediately.
Immediately (about 1:30pm) QB Pro Advisor Help ST transferred control of my computer to "Alex". "Alex" worked remotely on my company data file until about 3:30pm, at which time he told me that the repair had been completed. I am still not positive the repair is completed since I have not yet used the software and company data file enough to verify that it is operating properly.
While "Alex" was working remotely on my computer, I received and invoice # 2002197961 via email. I became concerned when I saw that this invoice was from "QB Pro Advisor Help" and not from "Intuit QuickBooks." So, I telephoned QB at (800) 446-8848 and waited on hold for about 20 minutes until I could talk with a real person. Finally, I talked with a lady "Ron" and described my situation. I asked if "QB Pro Advisor Help" is a QB company. I was informed that they are not. I then discussed what the expense is for technical support from QB; I was told 9.95 per year, .95 per 3 months or .00 per month. "Ron" informed me that QB does not offer any technical support in greater than annual periods, she suggested I immediately stop payment. We discussed the possibility of this being a fraudulent transaction since "QB Pro Advisor Help" had misrepresented themselves as being QB. She also suggested I report this instance to the QB fraud department at spoof@intuit.com, which I promptly did. There is no telephone number available to contact the Intuit QB fraud department directly. I am still waiting for a reply to this email fraud report.
To the beginning, how did this situation evolve?
I am having an issue importing if files from my POS into QB Pro 2019. I can import using my admin, but unable to import by my second full access user. First I called QB at (800) 446-8848 and was informed there was a long wait time, but if I left my telephone number that my call would be returned. I left my telephone numbers (541) 476-9646 (work) and (541) 659-2439 (cellular), expecting a return telephone call from QB technical support. QB Pro Advisor Help
Then, I got online (while in QB) and submitted my problem on the QB technical user community support board as follows:
"Hello. I am using QP Pro 2019 desktop. I have two users. When the second user attempts to import and if file from my POS, he gets an error that he is unable to do this because he is not an admin. QB Pro Advisor Help
My user is an admin and I can import if files without issue. QB Pro Advisor Help
Does this mean that for my second user that I must give him my user and password to allow him to import if files? We import if file information from our POS daily.
I am hoping there is a work around.
Thanks