VELOCIDAD DE ESCAPE
Inicio > Historias > SOY UNA MOTO DE LUZ
2005-06-01
---
SOY UNA MOTO DE LUZ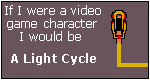 I am a Light Cycle.


I drive fast, I turn fast, I do everything fast. I even breakfast. I tend to confuse people with my sudden changes of heart. Sometimes I even confuse myself, which tends to cause problems. What Video Game Character Are You?

[Vía Picacódigos]
| jomaweb | 3 Comentarios | Enlace
Referencias (TrackBacks)
URL de trackback de esta historia http://jomaweb.blogalia.com//trackbacks/30277
Comentarios
1

| | |
| --- | --- |
| De: Guille | Fecha: 2005-06-01 11:38 |

Hey! Yo soy Mario! que wapo (aunque simpre que jugabamos dos, me cogía a Luigi)!
2

| | |
| --- | --- |
| De: juan | Fecha: 2005-06-01 18:06 |

pues yo soy...

I am a Pacman Ghost.

I like to hang around with friends, chatting, dancing, all that sort of thing. We don't appreciate outsiders, and do our best to discourage others approaching us. I enjoy occasionally wandering around randomly, and often find that when I do so, I get to where I wanted to be.

me encanta.